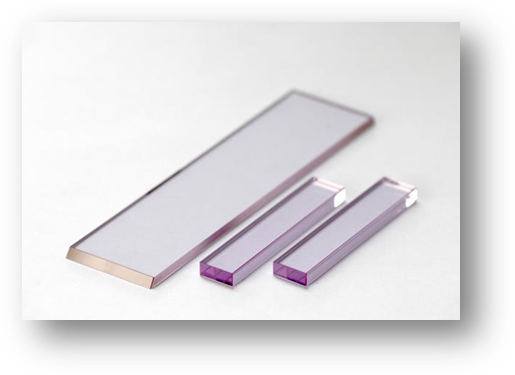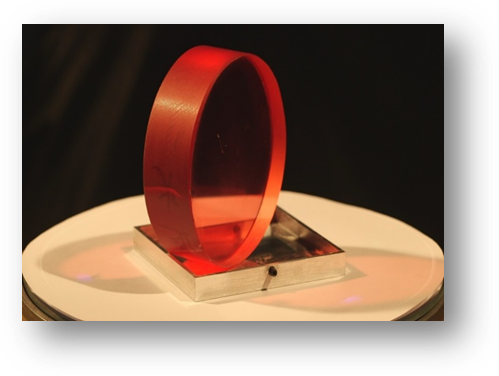 SIOM
Products
Product parameters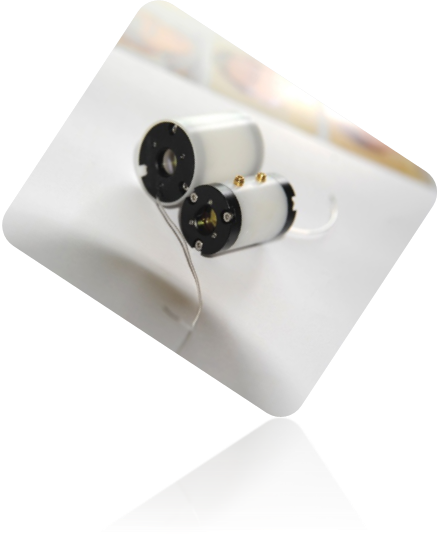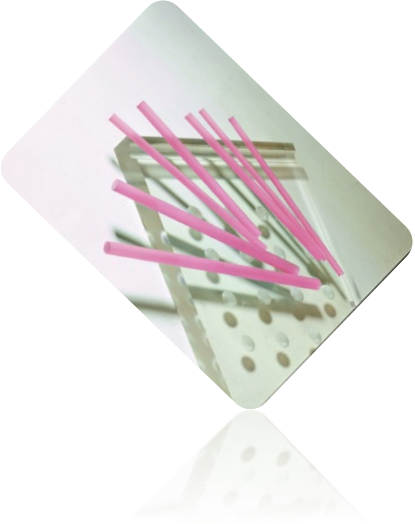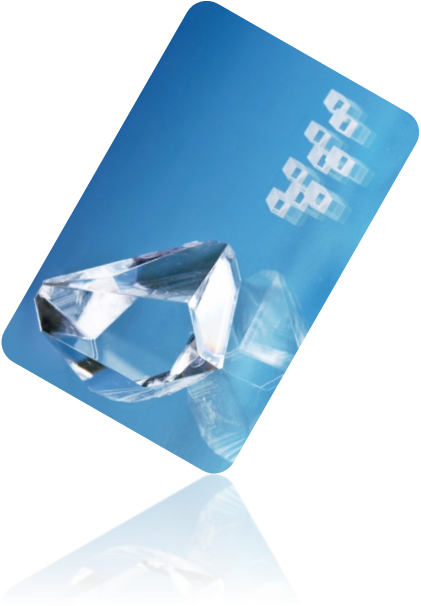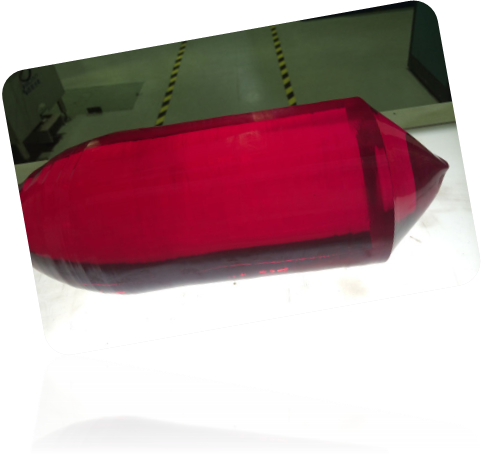 Catalog
High Efficiency DKDP Pockels Cells. 14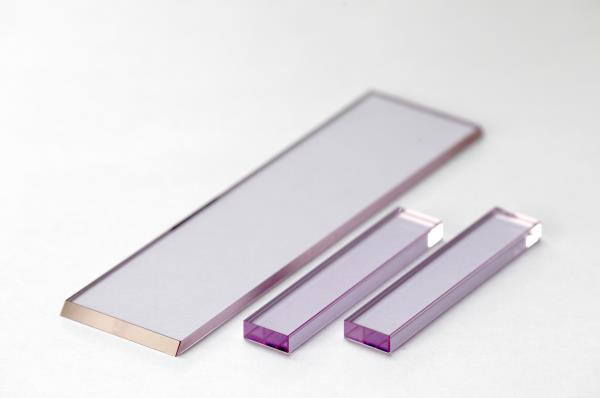 Specifications of Nd:YAG crystal from SIOM
| | |
| --- | --- |
| Dimension | size up to Φ15x160mm and maximum diameter of Φ40mmx2mm |
| Nd Dopant Level | 0.1~1.2(±0.1)atm% |
| Length tolerance | ±0.5mm |
| Perpendicularity | < 5 arc minutes |
| Parallelism | <10 arc seconds |
| Wavefront distortion | λ/8 |
| Flatness | λ/10 |
| Scratch/Dig | 10/5 @MIL-PRF-13830B |
| Chamfer | 0.1mmx45° |
| HR-Coating | R>99.8%@1064nm and R<5%@808nm |
| AR-Coating (Single layer MgF2) | R<0.25% per surface @1064nm |
| Other HR coatings | such as HR @1064/532 nm, HR @946nm, HR@1319 nm and other wavelengths are also available |
| Damage Threshold | >500MW/cm2 |
Optical Parameter of Nd:YAG crystal
Diameter (mm)

Standard grade

Excellence grade

Super excellence grade

Φ3-6.35

≤ λ/10

≤ λ/10

≤ λ/10

≥ 25dB

≥ 28dB

≥ 30dB

Φ7-10

≤ λ/10

≤ λ/10

≤ λ/10

≥ 22dB

≥ 25dB

≥ 28dB

Φ11-13

≤ λ/10

≤ λ/10

≤ λ/10

≥ 20dB

≥ 23dB

≥ 26dB

Φ14-16

≤ λ/10

≤ λ/10h

≤ λ/10

≥ 18dB

≥ 20dB

≥ 23dB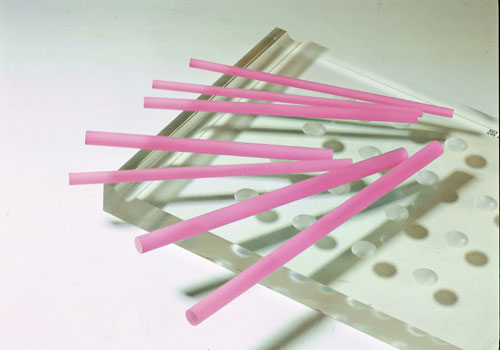 Material and Specifications
Dopant concentration

Er: 10~50 at%

Wavefront Distortion

≤ λ/10 (@1064nm)

Extinction Ratio

≥25 dB

Rod Sizes

Diameter:3~6mm, Length:50~120 mm

Upon request of customer

Dimensional Tolerances

Diameter:+0.000"/-0.002", Length: ± 0.02"

Barrel Finish

Ground Finish: 400# Grit

Parallelism

≤10"

Perpendicularity

≤5′

Flatness

λ/10

Surface Quality

10/5(MIL-PRF-13830B)

Chamfer

0.006"±0.002" at 45°± 5°

AR Coating Reflectivity

≤ 0.25% (@2940nm)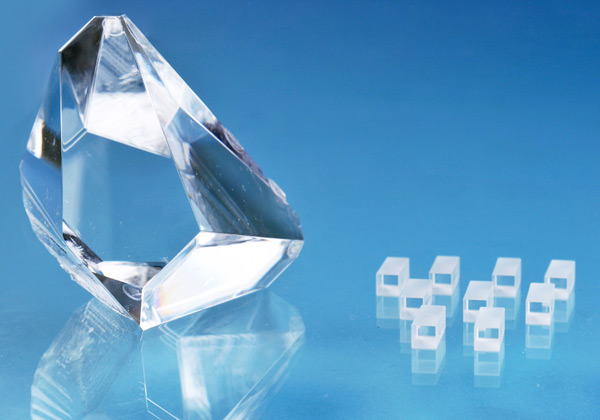 SIOM offers LBO of
• strict quality control;
• large crystal size up to 30x30x30mm3 and maximum length of 60mm;
• AR-coating, mounts and re-polishing services;
• a large quantity of crystals in stock;
• fast delivery(10 days for polished only, 15 days for AR-coated).
SIOM provides LBO crystal with the following AR-coatings:
• Dual Band AR-coating (DBAR) of LBO for SHG of 1064nm.
• low reflectance (R<0.2% at 1064nm and R<0.5% at 532nm );
• high damage threshold (>500MW/cm2at both wavelengths);
• long durability.
• Broad Band AR-coating (BBAR) of LBO for SHG of tunable lasers.
• Other coatings are available upon request.
LBO Specifications
Dimension tolerance

(W±0.1mm)x(H±0.1mm)x(L+0.5/-0.1mm) (L≥2.5mm)

(W±0.1mm)x(H±0.1mm)x(L+0.1/-0.1mm) (L<2.5mm)

Clear aperture

central 90% of the diameter

Flatness

less than λ/8 @ 633nm

Transmitting wavefront distortion

less than λ/8 @ 633nm

Chamfer

Chip

≤0.1mm

Scratch/Dig code

better than 10/ 5 to MIL-PRF-13830B

Parallelism

better than 20 arc seconds

Perpendicularity

≤5 arc minutes

Angle tolerance

Δθ≤0.25°, ΔΦ≤0.25°

Damage threshold[GW/cm2 ]

>10 for 1064nm, TEM00, 10ns, 10HZ (polished only)

>1 for 1064nm, TEM00, 10ns, 10HZ (AR-coated)

>0.5 for 532nm, TEM00, 10ns, 10HZ (AR-coated)
NOTES
1. LBO has a very low susceptibility to moisture. Users are advised to provide dry conditions for both the use and preservation of LBO.
2. Polished surfaces of LBO requires precautions to prevent any damage.
3. SIOM engineers can select and design the best LBO crystal for you, if the main parameters of your laser are provided, such as energy per pulse, pulse width and repetition rate for a pulsed laser, power for a cw laser, laser beam diameter, mode condition, divergence, wavelength tuning range, etc.
4. For thin LBO crystal, SIOM can provide free holder for you.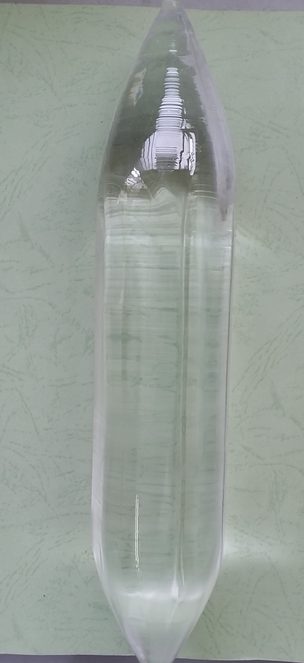 Advantages of Yb:YAG Crystal
• Very low fractional heating, less than 11%
• Very high slope efficiency
• Broad absorption bands, about 8nm@940nm
• No excited-state absorption or up-conversion
• Conveniently pumped by reliable InGaAs diodes at 940nm(or 970nm)
• High thermal conductivity and large mechanical strength
• High optical quality
Material and Specifications
Dopant concentration

Yb: 5~30at%

Wavefront Distortion

≤ λ/10

Extinction Ratio

≥28dB

Rod Sizes

Diameter: 2~20mm, Length: 5~150mm

Upon request of customer

Dimensional Tolerances

Diameter: +0.00″/-0.002″mm,

Lenggth: ±0.02″

Barrel Finish

Ground Finish: 400#Grit

Parallelism

≤10″

Perpendicularity

≤5′

Flatness

λ/10

Surface Quality

10-5(MIL-PRF-13830B)

Chamfer

0.006″±0.002″at 45°±5°

AR Coating Reflectivity

≤0.25%(@1030nm)

Single pass loss

<3 X 10-3cm-1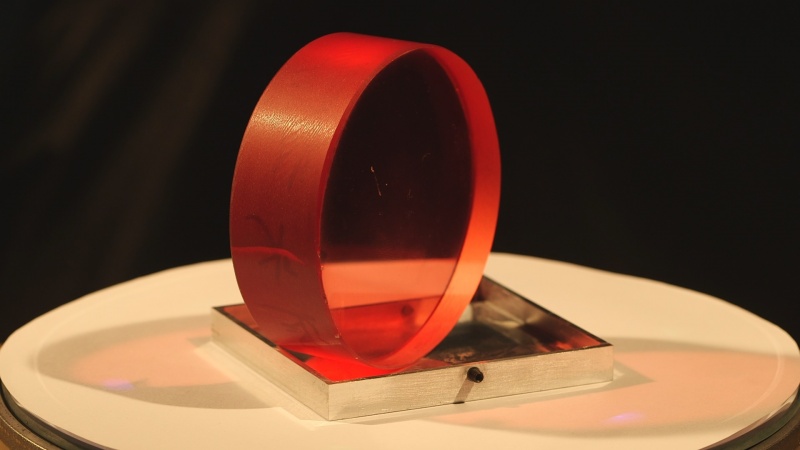 Main Applications
• The tunable wavelengths that cover a broad range from 700 to 1000 nm make Ti:Sapphire an excellent substitute for dye lasers in many applications.
• Doubling by NLO crystals such as BBO in an ultra-thin, Ti:Sapphire can be used to generate UV and
DUV (up to 193 nm ) laser with ultrafast pulses below 10fs.
• Ti:Sapphire is also widely used as the pumping source of OPOs greatly to expand the tunable range.
Standard product specifications
| | |
| --- | --- |
| Orientation | Optical axis C normal to rod axis |
| Ti2O3 concentration | 0.06 - 0.26atm % |
| Figure Of Merit(FOM) | 100~300(>250 available on special requests) |
| α490 | 1.0-4.0cm-1 |
| Diameter | 2-30mm or specified |
| Path Length | 2-30mm or specified |
| End configurations | Flat/Flat or Brewster/Brewster ends |
| Flatness | <λ/10 @ 633 nm |
| Parallelism | <10 arc sec |
| Surface finishing | <40/20scratch/dig to MIL-PRF-13830B |
| Wavefront distortion | <λ/4 per inch |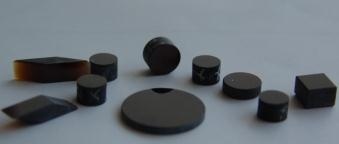 Basic Properties of Cr4+:YAG
| | |
| --- | --- |
| initial transmission | 10%~92% |
| Dopant Level | 0.5mol% ~3mol% |
| Hardness | 8.5 |
| Damage Threshold | >500MW/cm2 |
| Refractive Index | 1.82@1064 |
The preliminary experiments of SIOM's Cr4+:YAG showed that the pulse width of passively Q-switched lasers could be as short as 5ns for diode pumped Nd:YAG lasers and repetition as high as 10kHz for diode pumped Nd:YVO4 lasers. Furthermore, an efficient green output @532nm, and UV output @355nm and 266nm were generated, after a subsequent intracavity SHG in KTP or LBO, THG and 4HG in LBO and BBO for diode pumped and passive Q-switched Nd:YAG and Nd:YVO4 lasers.
Cr4+:YAG is also a laser crystal with tunable output from 1.35 µm to 1.55 µm. It can generate ultrashort pulse laser (to fs pulsed) when pumped by Nd:YAG laser at 1.064 µm.
Note:
When ordering Cr4+:YAG crystal, please specify the size, initial transmission and coatings. For further information, please contact SIOM.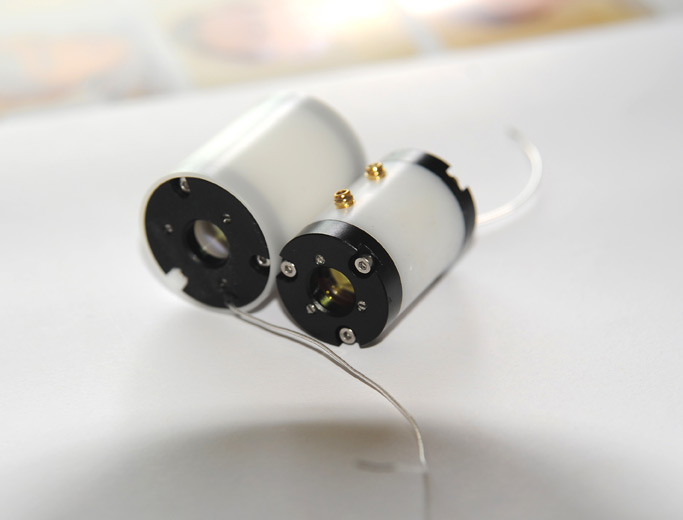 The advantage of the photoelectric electro-optic crystal Q switch
l AR-Coating,Mounting Re-polishing Service
l Strict Quality Control
l Competitive Price
l Fast Delivery
l Superb Technical Support Always
DKDP Q-Switch Standard Specifications
| | |
| --- | --- |
| Deuteration Level | >98% |
| Quarter-Wave Voltage | <3.6KV @1064nm |
| Optical Damage Threshold | >4GW/cm2 at 10Hz |
| Extinction Ratio | >1000:1 |
| Capacitance | 7~10pf @ 1kHz |
| Parallelism | <20 arc seconds |
| Perpendicularity | <5 arc minutes |
| Angle tolerance (degree) | Δθ<±0.3°ΔФ<±0.3mm |
| Windows AR coating | R<0.1% at 1064nm |
| Dimension tolerance | ±0.1mm |
| Flatness | λ/8 @ 633nm |
| Clear aperture | >90% central area |
Clear aperture

Ф8mm(face lead)

Ф8mm(side lead)

Ф10mm(face lead)

Ф10mm(side lead)

Ф12mm(face lead)

Ф12mm(side lead)

Outer Diameter

Ф20 X 29mm

Ф20 X 25mm

Ф30 X 20mm

Ф28 X 33mm

Ф30 X 40mm

Ф28 X 33mm

Ф32 X 40mm

Ф32 X 40mm

Transmission @ 1064nm

>98%

>98%

>98%

>98%

>98%

>98%

Wavefront distortion

<λ/8

<λ/8

<λ/8

<λ/8

<λ/8

<λ/8

Extinction ratio

>1200:1

>1500:1

>1200:1

>1500:1

>1200:1

>1500:1

λ/4 Voltage

3400V

3400V

3400V

3400V

3400V

3400V

Capacitance

<10pF

<10pF

<10pF

<10pF

<10pF

<10pF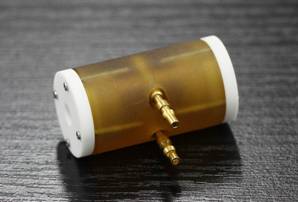 Specifications
| | |
| --- | --- |
| Aperture | 12X12mm2~2X2mm2 |
| Length | 20mm, 25mm |
| Flatness | λ/10 @ 633nm |
| Wavefront | λ/8 @ 633nm |
| Parallelism | <20 arc sec |
| Perpendicularity | <5 arc sec |
| Surface quality | 10/5 2/10 after coatings |
| Spectral range | 210~2100nm |
| Damage threshold | 600MW/cm2 @ 10ns, 10Hz, 1064nm |
Single Crystal BBO Pockels cell Specifications
| | |
| --- | --- |
| Clear aperture diameter(mm) | 1.8, 2.8, 3.6 |
| Crystal size(WXHXL)(mm) | 2 X 2 X 20 |
| Quarter-wave voltage(@ 1064nm),(kV DC) | 2.4kV |
| Capacitance(pF) | 4 |
| Optical transmission (%) | 99 |
| Extinction ratio | >1000:1 |
| Dimensions(mm) | 20 X37.5 |
| Clear aperture diameter(mm) | 1.8 |
| Crystal size(WXHXL)(mm) | 2 X 2 X 25 |
| Quarter-wave voltage(@ 1064nm),(kV DC) | ~1.9kV, ~2.9kV, ~3.9KV |
| Capacitance (pF) | 5 |
| Optical transmission (%) | 99 |
| Extinction ratio | >1000:1 |
| Dimensions (mm) | 20 X37.5 |
Dual Crystal BBO Pockels cell Specifications
| | |
| --- | --- |
| Clear aperture diameter(mm) | 2.8, 3.6, 4.6 |
| Crystal size(WXHXL)(mm) | 3 X 3 X 20 |
| Quarter-wave voltage(@ 1064nm),(kV DC) | 1.8kV |
| Capacitance(pF) | 8 |
| Optical transmission (%) | 98 |
| Extinction ratio | >500:1 |
| Dimensions(mm) | 25 X 60 |
| Clear aperture diameter(mm) | 2.8 |
| Crystal size(WXHXL)(mm) | 3 X 3 X 20 |
| Quarter-wave voltage(@ 1064nm), (kV DC) | ~1.5kV, ~2.0kV, ~2.4kV |
| Capacitance (pF) | 10 |
| Optical transmission (%) | 98 |
| Extinction ratio | >500:1 |
| Dimensions (mm) | 25 X 60 |
High Efficiency DKDP Pockels Cells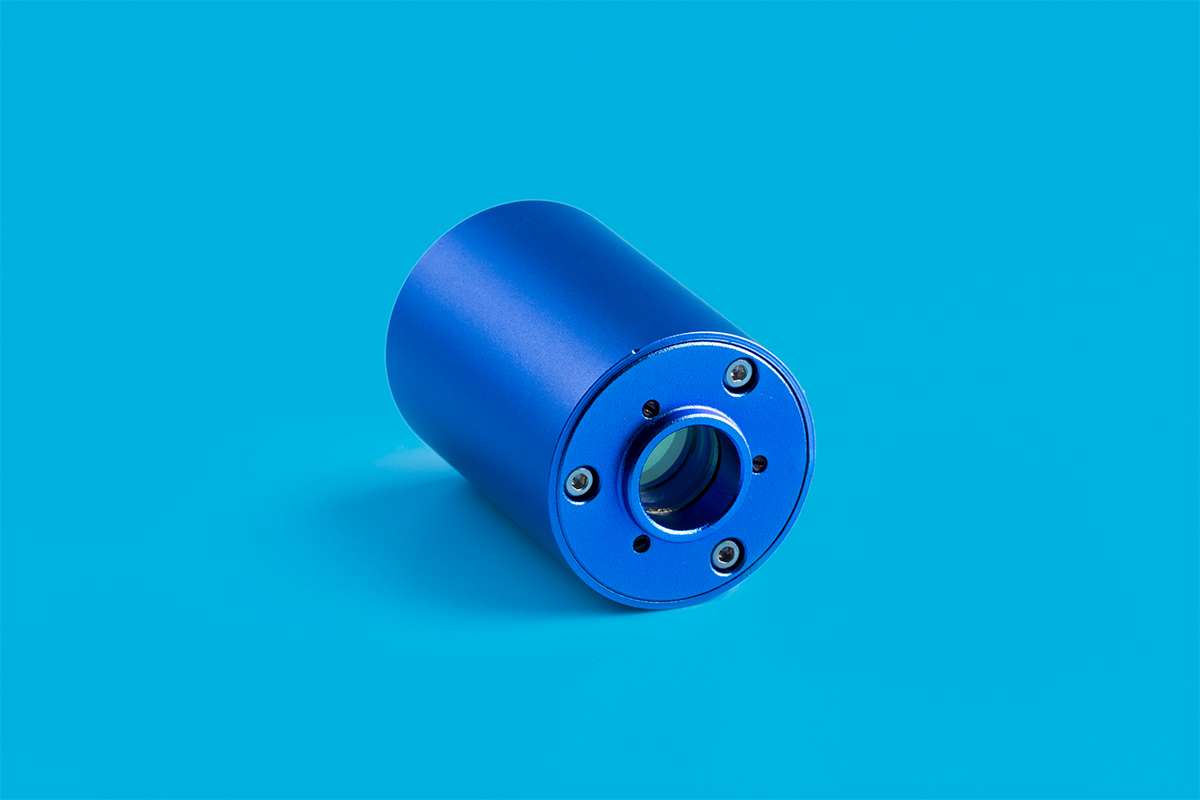 The advantage of the photoelectric electro-optic crystal Q switch
l AR-Coating,Mounting Re-polishing Service
l Strict Quality Control
l Competitive Price
l Fast Delivery
l Superb Technical Support Always
Specifications
| | |
| --- | --- |
| Deuteration Level | >98% |
| Quarter-Wave Voltage | <3.6KV @1064nm |
| Optical Damage Threshold | >4GW/cm2 at 10Hz |
| Extinction Ratio | >1000:1 |
| Capacitance | 7~10pf @ 1kHz |
| Parallelism | <20 arc seconds |
| Perpendicularity | <5 arc minutes |
| Angle tolerance(degree) | Δθ<±0.3°ΔФ<±0.3mm |
| Windows AR coating | R<0.1% at 1064nm |
| Dimension tolerance | ±0.1mm |
| Flatness | λ/8 @ 633nm |
| Clear aperture | >90% central area |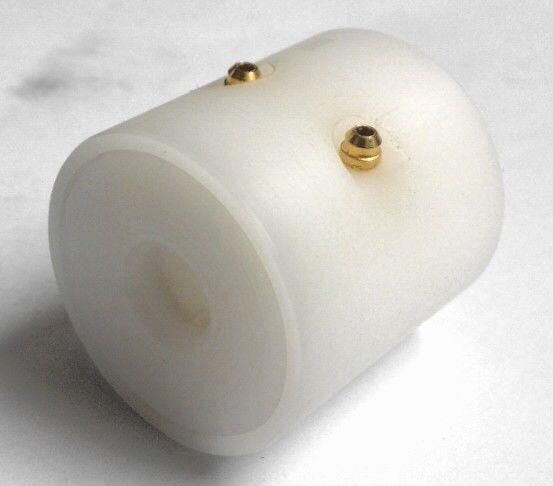 LiNbO3 Pockels Cells
Applications:
l Frequency double
l Optical parametric oscillators,
l Quasi-phase-matched (QPM) devices
l Waveguide substrates
l Q-switches and phase modulators
l LiNbO3 pockels cells are very suitable for applications in Er:YAG, Ho:YAG, Tm:YAG, laser system
l Higher damage threshold
Specifications
Aperture

Min 5 X 5mm2

Max 20 X 20mm2

Length

~60mm

Orientation

12 arc min

Flatness

λ/8 @ 633nm

Wave front distortion

λ/4 @ 633nm

Parallelism

<20 arc sec

Perpendicularity

<5 arc sec

Surface quality

10-5 after coatings 20-10

Wavelength

300-3000nm
Standard specifications
Clear aperture

Shell size(according to customer design)

λ/4 voltage

2.5mm

Ф20 X 66mm

400V λ/2 at 633nm

Crystal size 4 X 2.5 X 60mm

Electro-optic modulation

5mm

Ф25.4 X 36mm

800V λ/2 at 633nm

Crystal size 5 X 5 X 30mm

Electro-optic modulation

8mm

Ф30/32 X 26/36mm

1800V λ/4 at 1064nm

Crystal size 9 X 9 X 20/25mm

Electric adjustable Q

9mm

Ф31/32 X 26mm

2100V λ/4 at 1064nm

Crystal size 10 X 10 X 20mm

Electric adjustable Q

Over all transmittance

>98%

Crystal through distortion

λ/4 at 633nm

Insertion loss

3%

Surface quantity

λ/8 at 633nm

Output tuning Q energy

100mJ

Extinction ratio

200:1 5mm section

Capacitance

5pF

X surface chromium plated electrodes

Damage threshold

100MW/cm2 1064nm 10ns 10Hz (LN switch)

200MW/cm2 1064nm 10ns 10Hz (MgO:LN switch)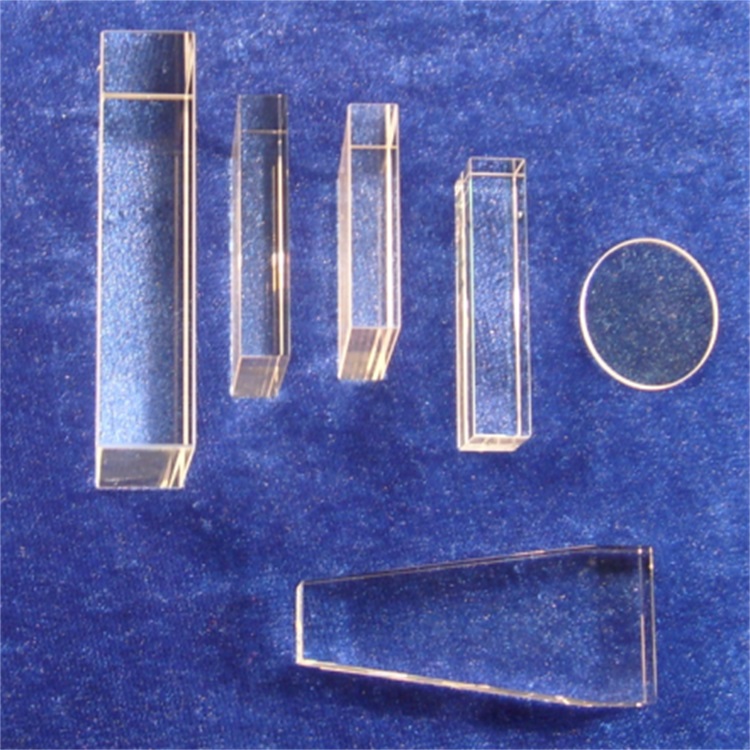 Ruby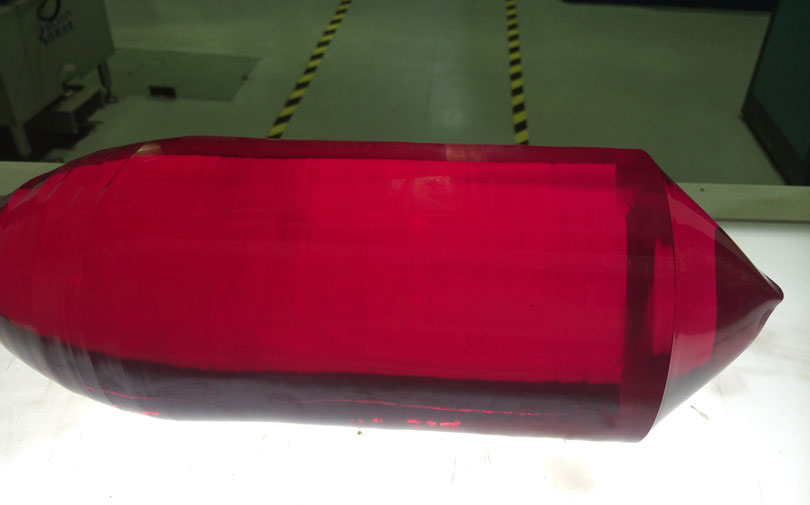 Customizable